This is for my students who are studying art and science,and anyone else' artist, scientists, creative and the curious. The Original intent is to be able to post for my students examples of artists and scientists who merge worlds to create a greater understanding of the world around us. I hope it will be a resource for anyone interested in the topic.
Sunday, June 13, 2010
Because I like this course so much, and find the women I'm researching so extrodinary, this is information worth keeping available to everyone.
Thank you to all my facebook and Twitter friends who helped me come up with names and ideas.
to give back to you guys, here's what I've found all on line.
Hopefully for the parents out there - here's how you can stay in touch with this information as well and keep it and your daughters forever creative and curious!
Most importantly - here's to the Science Museum of MN - my favorite place to teach! These kids are the best and it is totally worth taking my summers and weekends to work with these amazing young minds. Go nerds!
Posted by

Abbi
at 8:56 PM
No comments:
Links to this post


Monday: Ecology / Naturalist
Janine Benyus
- Biomimicry (small introduction)
------------------------------------------
Alice Eastwood - Botany
Originally Canada, but migrated to the US, and spent most of her career in CA
Alice Eastwood

(1859-1953), Naturalist Eastwoodia elegans --> a type of sunflower she discovered Resources: http://www.encyclopedia.com/doc/1G2-3404708007.html http://www.huh.harvard.edu/libraries/archives/EASTWOOD.html

"Alice Eastwood."

Encyclopedia of World Biography

. 2004. Retrieved June 27, 2010 from Encyclopedia.com:

http://www.encyclopedia.com/doc/1G2-3404708007.html

Some of her favorite species

west American Liliaceae -

Erythronium revolutum

Janine Benyus - Biomimicry (small introduction)
"Janine Benyus is dazzlingly brilliant naturalist and the author of six books, including the groundbreaking Biomimicry: Innovation Inspired by Nature. She is co-founder of the Biomimicry Guild, which helps designers, engineers and community leaders "consult life's genius for more graceful ways to live on earth."
Image and bio taken from: http://www.blackwoodland.org/bioneers/national_speakers.htm
Acid Rain Experiment
Start with 3 plants - In this case we are using the imatient
They will each get a 1/2 cup of fluid
the Black will get 50% water, 50% lemon juice (Acid)
the brown pot will get 100% water
and this is the 50% water - 50% lemon juice - which is WAY TOO MUCH. Nearly killed the plant in hours. so we'll do less in class.
A week later - things happen - but it seemed like more of it had to do with mold than it did with acid. The 50% lemon juice tried to die instantly, flimsy leaves, they wilted, and stopped growing all together.









OTHER WOMEN SCIENTISTS TO BE MENTIONED:
Katherine Brandegee

(maiden name Layne)(1844-1920), Naturalist

Katherine Brandegee (Layne, her maiden name at the time) married to a cop in 1866 but when he died of alcoholism in 1874, she decided follow her own interests and started her life over. She enrolled in medical school at the University of California, Berkeley in 1875. She was the third woman ever to do so. Do to discrimination, she did not get very many patients, and decided then to shift her focus on her long time passion for plants. She studied them with the intent developing new medical drugs.

She went to the Academy of Sciences, San Francisco, working in the Herbology lab. She did such a complete job organizing, and documenting the plants that the curator turned his job over to her when he retired in 1883. During her stay there, she met, and fell in love with her true-life partner, Townshend Stith Brandeggee. They married in 1889, and spent their honeymoon walking from San Diego to San Francisco collecting plants for their own collection. She left the academy into the hands of Alice Eastwood in 1895, and spent the rest of her life traveling the southwest collecting plants species in fair and fowl health.

It was said that she could have published the most in-depth book about plants that had ever been, but her fear of failure held her from doing it, and thus, she never did.
Posted by

Abbi
at 8:52 PM
No comments:
Links to this post


Tuesday: Exploration, Medicine, technology & Design
Ann Hamilton, - Medicine related to industrial areas
Rachel Zimmerman – Created a translator through symbols, she created technology to get disabled individuals who could no longer communicate with words.
Blissymbols
Janine Benyus, - Biomimicry
Sylvia Earle - Deep Ocean Research
EXPLORATION:
Dr. Mae Jemison- Astronaut
Born in Alabama, Lived in Chicago, currently lives in Huston TX, but remains a global citizen.
(1956 - present)
Mae's parents believed education was extremely important and hence was the reason for moving to Chicago when she was 3 years old. At age 4, her Uncle inspired her interest in Archeology and Anthropology. She has degrees, experience, and skills in African studies, African American studies, Chemical Engineering, Science, Dance, Coreography, Astronaut, Education, Teaching, Medical work and more.
She is dedicated to equality for all people and improving the status of those who are inhibited by social injustice. She has traveled all over the world and worked on improving the health of those in less fortunate countries than our own.
Since leaving NASA - she has focused her attention of providing opportunities for education in the sciences and beyond.
Bio Taken directly from TED talks:
http://www.ted.com/speakers/mae_jemison.html
"In 1992, Mae Jemison was the first African-American woman to go into space. She's become a crusader for science education -- and for a new vision of learning that combines arts and sciences, intuition and logic.
Mae Jemison is a poster child for an education that combines arts and sciences. As she says, "I always knew I'd go to space." Trained as an engineer, Jemison is a medical doctor, and she practiced in LA before becoming the Peace Corps' Medical Officer for Sierra Leone and Liberia. While running that effort, she researched Hepatitis B, schistosomaisis and rabies with the CDC and NIH.
Back in the US, she'd returned to her California practice when selected in 1987 for NASA's astronaut program. She was the science mission specialist on STS-47 Spacelab-JEndeavour and her crew launched from and returned to the Kennedy Space Center in Florida. In completing her first space flight, Dr. Jemison logged 190 hours, 30 minutes, 23 seconds in space."
(September 12-20, 1992), a cooperative mission between the United States and Japan. From NASA's factsheet: "The eight-day mission was accomplished in 127 orbits of the Earth, and included 44 Japanese and U.S. life science and materials processing experiments. Dr. Jemison was a co-investigator on the bone cell research experiment flown on the mission. The
In 1994, Jemison founded the Dorothy Jemison Foundation for Excellence, which runs an internationally-known science camp called The Earth We Share. She also founded BioSentient Corp. to explore bringing NASA biofeedback technology to public market. Jemison is also the first real astronaut to appear on Star Trek"
Bio Taken directly from TED talks: http://www.ted.com/speakers/mae_jemison.html
Mae Jemison on teaching arts and sciences together
"Dr. Jemison founded The Jemison Group, Inc., located in Houston, TX, to research, develop and implement advanced technologies suited to the social, political, cultural and economic context of the individual, especially for the developing world. Current projects include: Alpha, (TM) a satellite based telecommunication system to improve health care in West Africa; and The Earth We Share, (TM) an international science camp for students ages 12 to 16, that utilizes an experiential curriculum.".....
......"She feels very honored by the establishment (1992) of the MAE C. JEMISON ACADEMY, an alternative public school in Detroit."
Quotes taken from the bio of Dr. Jemison at the site: http://quest.nasa.gov/women/TODTWD/jemison.bio.html
She has also created these educational programs as well:
(1994)
The Earth We Share
, a space camp for ages 12-16.
(1995-2002) taught
environmental studies at Dartmouth College.
(present)
The Jemison Institute for Advancing Technology in developing countries
.
Resources:
http://quest.nasa.gov/women/TODTWD/jemison.bio.html
http://www.jemisonfoundation.org/drmae.htm
http://www.ted.com/speakers/mae_jemison.html
http://www.blackpast.org/?q=aah/jemison-dr-mae-c-1956
http://www.the-scientist.com/article/display/18670/
Sylvia Earle - Deep Ocean Research
This was all Taken from the TED bio - and can be read at:
http://www.ted.com/speakers/sylvia_earle.html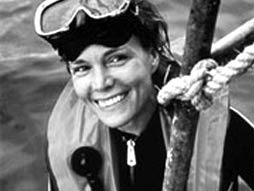 "Sylvia Earle has been at the frontier of deep ocean exploration for four decades. She's led more than 50 undersea expeditions, and she's been an equally tireless advocate for our oceans and the creatures who live in them.
"Sylvia Earle, called "Her Deepness" by the New Yorker and the New York Times, "Living Legend" by the Library of Congress and "Hero for the Planet" by Time, is an oceanographer, explorer, author and lecturer with a deep commitment to research through personal exploration.
Earle's work has been at the frontier of deep ocean exploration for four decades. Earle has led more than 50 expeditions worldwide involving more than 6,000 hours underwater. As captain of the first all-female team to live underwater, she and her fellow scientists received a ticker-tape parade and White House reception upon their return to the surface. In 1979, Sylvia Earle walked untethered on the sea floor at a lower depth than any other woman before or since. In the 1980s she started the companies Deep Ocean Engineering and Deep Ocean Technologies with engineer Graham Hawkes to design and build undersea vehicles that allow scientists to work at previously inaccessible depths. In the early 1990s, Dr. Earle served as Chief Scientist of the National Oceanographic and Atmospheric Administration. At present she is explorer-in-residence at the National Geographic Society.
Sylvia Earle is a dedicated advocate for the world's oceans and the creatures that live in them. Her voice speaks with wonder and amazement at the glory of the oceans and with urgency to awaken the public from its ignorance about the role the oceans plays in all of our lives and the importance of maintaining their health.
"We've got to somehow stabilize our connection to nature so that in 50 years from now, 500 years, 5,000 years from now there will still be a wild system and respect for what it takes to sustain us."
Sylvia Earle"
This was all Taken from the TED bio - and can be read at:
http://www.ted.com/speakers/sylvia_earle.html
RESOURCES:
http://deepseanews.com/2009/01/new-ocean-atlas-from-her-deepness-sylvia-earle/
http://www.nytimes.com/2009/01/13/science/earth/13ocea.html?_r=1&pagewanted=1
http://www.amazon.com/Ocean-Illustrated-Atlas-National-Geographic/dp/1426203195/ref=sr_1_fkmr0_1?ie=UTF8&qid=1277691865&sr=8-1-fkmr0
http://www.ted.com/speakers/sylvia_earle.html
---------------------------------------------------------------------------------------

Janine Benyus - Biomimicry
"Janine Benyus is dazzlingly brilliant naturalist and the author of six books, including the groundbreaking Biomimicry: Innovation Inspired by Nature. She is co-founder of the Biomimicry Guild, which helps designers, engineers and community leaders "consult life's genius for more graceful ways to live on earth."
Image and bio taken from: http://www.blackwoodland.org/bioneers/national_speakers.htm
"Janine Benyus has a message for inventors: When solving a design problem, look to nature first. There you'll find inspired designs for making things waterproof, aerodynamic, solar-powered and more. Here she reveals dozens of new products that take their cue from nature with spectacular results."
taken from Ted: http://www.ted.com/talks/lang/eng/janine_benyus_biomimicry_in_action.html
"Biomimicry is the science and art of emulating Nature's best biological ideas to solve human problems. Non-toxic adhesives inspired by geckos, energy efficient buildings inspired by termite mounds, and resistance-free antibiotics inspired by red seaweed are examples of biomimicry happening today -- and none too soon. Humans may have a long way to go towards living sustainably on this planet, but 10-30 million species with time-tested genius to help us get there."
Janine Benyus shares nature's designs

not shown in class (Science museum class) - but being made available for your own info. I will show this - but starting at minute 11. she kinda babbles in the beginning.
• 3.8 Billion years of Research and Design testing
• 10 – 30 Million + species that are well adapted to the solutions
• Design solutions solved in the CONTEXT of living on Earth, and making things without damaging it.
• The Emulation of life's Genius
• It is not 'high tech" if it is not sustainable and safe for the environment, now and generations to come.
3 questions:
1)
1) How does life make things?
-
Without heating, beating or treating? (Our current system is 96% waste, 4% product) – Nature has 0% waste - and all of it gets re-absorbed and used into a system.
2)
2

)How does life make the most of things?
-
How does information turn into matter and the structure always aids in the function of the creature?
3) How does life Make "things" that disappear into a system?
Questions like "HOW DOES NATURE……………
- Optimize its packing space?
- Heat and Cool a structure?
- Build houses for it's young?
- Allow for coexistence of all those around it?
- Move fast without turbulence or friction?
- Gather water in environments where there are no liquid pools of water?
- Gather, create and use Energy efficiently?
- Use CO2 as a building Block rather that see it as a waste product?
- Design strength building in a structure with the minimal amount of matter? (like bones and trees)
- How can you get many functions out of one material? (Like chitin on an insect)
Currently we use all the elements on the periodic table, many of them carcinogenetic and work with 350 different polymers to create things. Nature uses basically 4 elements and only 5 different formulas of polymers to do the same things and more with no carcinogens or waste.
- Work with Nano technology, and safely?
- Energy use, and how to optimize it?
- How does nature move water up without a pump?
- How does nature produce energy (like the electric eel), and INSULATE itself from the 200 volts of energy it creates?
- How does nature shut on and off?
- How can we reduce Drag / friction (the loss of energy)?
- Hoe does it listen specifically to something amongst all the noise?
- Provide Ecosystem wide services that all work together in concert?
#1 – Self assembly:
shells – mother of pearl that is stronger than ceramics yet assembled at room temperature, lenses that are flexible, silicon w/ out carcinogens. How to create & build something WITHOUT HEATING, BEATING OR TREATING.
#2 – CO2, as a building block:
#3 – Solar Transformation:
Harvesting the sun's energy and using it efficiently for growth.
#5 – Color with out pigment:
thin film interference
#6 – Shape and form that cleans itself without detergents:
#7 – Quenching Thirst –
how to get water out of thin air.
#8 – Separation Technology –
to get metals without mining.
#9 – Green Chemistry:
Nature uses only 4 elements on the periodic table and only 5 polymers to create everything we see that is biological. It takes us 118 elements and most of them are carcinogenic and 350 polymers to make what we see around us that are man made.
#10 – Timed degradation: being able to dissolve on cue
#11 – Resilience and healing:
looking at species that are able to dry out and come back to life in the presence of water after years and years (inspired vaccine development), and re-generate limbs
#12 – Growing and farming
#13 – Life's Design is always simple
#14 – Life Creates Conditions Conducive to life
http://www.designboom.com/weblog/keyword/biomimicry.html
-------------------------------------------
Sally Ride, - Astronaut,


Ada Lovelace, - father was poet Byron, she worked on the initial seeds of computers
Analyst, Metaphysician, and Founder of Scientific Computing
"A

da Byron was the daughter of a brief marriage between the Romantic poet Lord Byron and Anne Isabelle Milbanke, who separated from Byron just a month after Ada was born. Four months later, Byron left England forever. Ada never met her father (who died in Greece in 1823) and was raised by her mother, Lady Byron. Her life was an apotheosis of struggle between emotion and reason, subjectivism and objectivism, poetics and mathematics, ill health and bursts of energy.
Lady Byron wished her daughter to be unlike her poetical father, and she saw to it that Ada received tutoring in mathematics and music, as disciplines to counter dangerous poetic tendencies. But Ada's complex inheritance became apparent as early as 1828, when she produced the design for a flying machine. It was mathematics that gave her life its wings."
"Ada called herself "an Analyst (& Metaphysician)," and the combination was put to use in the Notes. She understood the plans for the device as well as Babbage but was better at articulating its promise. She rightly saw it as what we would call a general-purpose computer. It was suited for "developping [sic] and tabulating any function whatever. . . the engine [is] the material expression of any indefinite function of any degree of generality and complexity." Her Notes anticipate future developments, including computer-generated music.
Ada died of cancer in 1852, at the age of 37, and was buried beside the father she never knew. Her contributions to science were resurrected only recently, but many new biographies* attest to the fascination of Babbage's "Enchantress of Numbers."
taken from: http://www.sdsc.edu/ScienceWomen/lovelace.html
Myra Adele Logan, - 1st woman to operate on the human heart
"She not only delivered babies on the way to the hospital, but also repaired numerous stab wounds to the heart. Remaining at Harlem Hospital, she became an associate surgeon there, and was also a visiting surgeon at Sydenham Hospital. In 1943 she became the first woman to perform open heart surgery, in the ninth operation of its kind anywhere in the world. She also became interested in the then-new antibiotic drugs, researching aureomycin and other drugs and publishing her results in Archives of Surgery and Journal of American Medical Surgery. In the 1960s, Logan began to work on breast cancer, developing a slower x-ray process that could detect more accurately differences in the density of tissue and thus help discover tumors much earlier. In addition to maintaining a private practice, she was also a charter member of one ofthe first group practices in the nation, the Upper Manhattan Medical Group of the Health Insurance Plan, a concept that houses physicians of various specialties under one roof and that is the norm today.
Logan found time in her busy schedule to stay committed to social issues. Early in her career, she was a member of the New York State Committee on Discrimination, but resigned in protest in 1944 when Governor Dewey ignored the anti-discrimination legislation the committee had proposed. She was also active in Planned Parenthood as well as the National Association for the Advancement of Colored People (NAACP), and after her retirement in 1970 she served on the New York State Work men's Compensation Board. Her myriad medical and civic achievements led to her election to the American College of Surgeons.
Logan married the well known painter Charles Alston in 1943. The couple had no children, devoting their lives to professional pursuits. She was a lover of music and a fine classical pianist. She also enjoyed the theater and reading. Myra Adele Logan died at Mount Sinai Hospital in New York on January 13, 1977, of lung cancer at the age of 68. Her husband, Charles Alston, died only a few months later."
information taken from:
http://www.faqs.org/health/bios/37/Myra-A-Logan.html
Posted by

Abbi
at 8:51 PM
No comments:
Links to this post